SERVICES SPECTRUM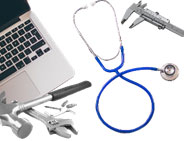 Steam and condensate systems


Cooling processes


Plant audits to discover energy recovery options


Engineering support at the utility processesí design stage

We have been carrying out plant audits and surveys to our customersí sites for years. We are able to check utility processes like steam and condensate system, hot thermal oil cycle, pressurised air system, cooling system etc.

We collect data during our site visits. After an engineering progress completed, we are preparing audit reports including efficiency and productivity improvement options.

We also provide support at system design stage and provide consultancy during installation commissioning stages.