OTHER PRODUCTION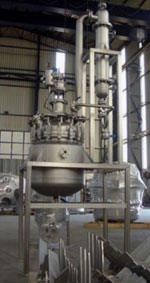 Reactors, condensers pressurized vessels, tailor made design and production

From 20 litres to 50.000 litres, we are capable to design and manufacture reactors, condensers, mixers, pressurised or non-pressurised vessels made of stainless steel and/or exotic metals.

Our spectrum on skid-mounted process control units is not limited.

Just call us for your specific needs to let us find an optimistic solution for you.