STEAM CONDITIONING / DE-SUPERHEATERS

Spring Loaded Variable Area Spray Nozzles

Our expertise on steam systems and strong relationship with our partners, we are capable to design and produce solutions to de-superheating applications. Besides complete system design, we are able to design and manufacture insertion type spring loaded spray nozzles in our workshop.

Spring loaded variable area spray nozzles are ideal where the steam flow rates subject to fluctuations. They provide very accurate cooling. Our multi orifice design spray head has special design which gives a rotation action to water flowing through the steam space. High turbulence and the vortices allows water to spray inside the superheated steam in mist form. This accelerates the process and very fast and accurate cooling of the superheated steam takes place.

Spring forces are to be calculated by our team. We use special alloys stainless steel springs for a long and trouble free operation. Pre-tensioned springs pushes piston to its' seat. When the spray water control valve opens, depending on the differential pressure increase, piston moves away from its' seat and water flow rate increases. Piston's stroke is proportional to differential pressure.

Spray water flow rates have also been calculated by our engineering department. Once this is done, we calculate requested Kvs/Cvs and select the best appropriate control valve and its' accessories with special control valve sizing software. Control vale movement is to be driven by a controller. This should be a simple PID or a DCS. A temperature transmitter has to be fit at the downstream piping to feed actual temperature signal to automation unit.

Our nozzle design is normally closed. It acts like a non-return check valve in order to help to prevent steam flow towards the spray water feed line.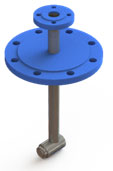 Technical Information
Steam main pipe size : DN80(3") –DN1200(48")
Connection to main : DN80(3") – DN300(12")
Water connection : DN15(1/2") – DN100(4")
Pressure class : PN16/160 – ANSI 150/900
Body Material : Stainless steel / Alloys
Nozzle Material : Stainless steel / Alloys
Spring material : Stainless steel / Alloys

Specifications;
-Spring loaded, variable area spray nozzle
-Temperature control 7oC above saturation temp.
-Water spray in mist form
-Wide control range, high turn-down up to 40:1
-Precise control
-Easy to maintain

Complete De-superheating Stations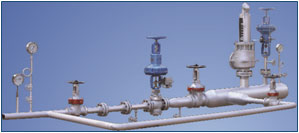 Please provide us below mentioned data in order to design proper station;
- Superheated steam inlet pressure
- Superheated steam inlet temperature
- Conditioned steam pressure
- Conditioned steam temperature
- Steam flowrate (before or after DSH)
- Spray water temperature
- Actuator choice(pneumatic/electric)
- Connections (ISO EN, ANSI, etc.)